Monday, January 31, 2005
Change of Fortunes....
Was going through
Sat's
blog, when the thought really struck me....I would be out of this place in 48 days flat...I would miss the Episode, BrandScan, Atharva, Speed, Gopi Bhaiya, Legal Point, Kamath Circle, Tiger Circle, KMC Greens, MIT Gardens and ofcourse KMC, MIT, MIM, MIC and all other unknown college's girls....Manipal, though punishing interms of weather, food and what not, had been more than kind when it comes to girls...all you need to do is to just come out of your god damned hostel room and roam about...it doestnt matter where you go....you would always be sure of a visual treat...I would miss this....
Yesterday being a Sunday, decided would go to some Beach...and that's how we ended up in Kaup beach...Kaup was pretty clean this time...one thing is that, out of the Tsunami fear, the Beach authorities have made a huge bund along the shore...as if it would offer any protection...I doubt whether such a bund would be of any use in front of the gaint Tsunami waves....there is also a
conspiracy theory
doing the rounds about the event that caused the Tsunami...in this world, you just cannot beleive in any of these reports...also you cannot refute them..strange world...
One thing I notice whenever I go to beach is that Girls of the same age group are much more active and seem to enjoy the water, the waves, the sand much more than the guys...a sort of aloofness is seen in the guys...Girls splash water, play what not in the sand and there would be a general sense of joy, a "thullal"( I couldnt find a better english word)....*Long Sigh*
BTW, I think somebody was jealous of my free time...got a load full of classes today...and loads of assignments....with an added reason.."Now that you had been placed, you would have all the more time to do the assignments more diligently".. So, right now I am in the midst of some heavy PPT preparation (Trade Unions for my Employee Relations class)....got some 34 slides done in the past two hours...has miles to go...a 45 minutes presentation...Listening to an assortment of songs...Tamil, Telugu, Malyalam, English, Hindi..right now this moment it is "Nenjinilae" from "Uyirae".....Janaki's southing voice makes me sleep.....Wondering whether I would finish the presentation at all.....I have to finish it...Hope I will....
Update:
Now the song is "Vallai Osai" from "Sathya" by SPB and Lata Mangeshkar.....sleep has gone....totally awake.....
Final Update( 02:15 AM, Feb 01, 2005):
Just Finished the Presentation...I would upload it after presenting it tomorrow...a total of around 52 slides...think this would be more than sufficient for 45 minutes....BTW "Valai Osai" has come a second round...after running through some 150 selected songs....Whew....But now certainly feeling sleepy...Good Night....Here you go....I have uploaded the presentation
here
...if you really wish to be fed some gyan...go have a look at it...
---
Sunday, January 30, 2005
Which came first???
"Mozhi Thoandratha Kaalathil Nuzhainthaal enna???
Vizhi Jaadaigal Paesiyea Nadanthaal enna???"

A wonderful song from "Anbe Sivam" ..."Mouvnname Paarvaiyaai" ...made me think.....Silence rather than words are the best way to express Love isnt it??...Silence conveys hell a lot than pages and pages of words....Silence coupled with the language of eyes would be the most perfect way to express love isnt it??....But my rational brain doesnt agree...it still says mails, letters, cards and speech plays a great role...rationality I think isnt all that great in certain places...How many expressions is this eye capable of perfecting...anger, surprise, Love, affection, sympathy, sorrow and what not....How will it be in a world where there is no language....if there is no language, will we be able to think??...What would be our thought process other than Hunger, Thrist and Pro-creation???...I wonder whether men would be able to know any of these feelings as such...wouldnt that be a horrible thing to imagine even....Will I be able to know it is hunger when I have that feeling in stomach???....Though you can argue that animals too dont speak, (which I think isnt a valid argument....Its just that we dont know what they speak...that doesnt mean they dont speak....
Absence of Evidence is not Evidence of Absence
) how different would that world (where there is no language) be from what we inhibit now??...
So a question comes up.....which came first...."Thoughts or Language"???
---
Friday, January 28, 2005
Books and Movies....Combi changed...
Count had reduced..only two movies today....Page3 and Butterfly Effect...

Butterfly Effect:
One of my favourite theories...Chaos Theory and Butterfly Effect explains a part of it...The theory, as many of you might know, says that "A simple flapping of wings of a butterfly in amazonian forest can lead to Typhoons in Japanese coast"....simply put, it says, there are almost infinite number of variables, that affect the happening of a certain event, all of which cannot be simultaneously determined and quantified...The shape of the graph for Lorenz's chaos theory explanation looked something like this: (can you figure the Butterfly..though the graph has got nothing to do directly with the butterfly effect)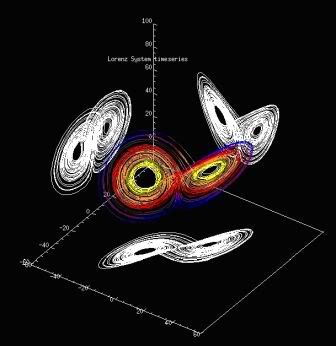 He (Lorenz) saw that the
complex systems show order, but they never repeat....
wait.....this is turning out to be a technical post...I dont want it that way....Coming back to the film, it made me think, though I dont prefer films that make me think.....I feel books do the job better...coz in books, you have the ultimate freedom to visualize events and draw your own conclusion....Visual media denies you that cushion and so, I prefer movies to be light and humorous....they have to make me feel light...the story basically deals with a guy living with his single mother because his father had become crazy and had been hospitalised.....this child grows up in isolation and in his adolescent, he makes a mistake of putting a dynamite in the mail box of his neighbour that kills the neighbour and her child....the guy has the habit of writting diaries...now years later, he recalls his past.....with the help of butterfly effect, the Director attempts to prove that, had this single incident not taken place or someother thing had happened, then the life of many others would have been wastly different.....seemingly unconnected people join in your life....there are atleast 4 ( I lost count after sometime) different branches of possibilities and the flow of life after that possibility has happened....God after sometime, it really becomes confusing on which probability the story is in....but the end was awesome....the movie ends with a baby closing its eyes(meaning dying)...the story also tells somewhere that this guy was the third child to his mother and the previous two were miscarriages....now at the end it all dawns is that, even the third child is a misscarraige....it has dreamt of having been born for the parents and being into some sort of life....it has lived a life of its own even before it is born....and it dies inside the womb....so it all ends as the dream of a dying foetus....Oh....*sigh*

Page 3:
A wonderful story of Ideology, practicality and pragmatism....Pragmatism wins ofcourse.....a story of three women, that get stuck in the system and the crap that goes behind those celebrity Page 3 funda...a nice movie..makes you laugh too sometimes....a very down to earth, simple and straight forward movie that portrays the social evils too...and the response of the society to those occurences...jus now out of it....late night show...feeling sleepy too..

The Wisdom of Crowds
and
The Laws of Manu
- Currently reading.
---
Wednesday, January 26, 2005
Back from Trip
Well, this is what they call a short trip.....Even I couldn't find any reason to believe that I had been away for a while, except for my mail accounts....overflowing with all those news alerts and group mails...in that sense, Gmail is a god sent, of course, u can still arrange your mails in outlook as conversations, but then I cant use my TAPMI id for group subscriptions...juz cos I would have to change them after 2 months....also, I don't want my mails to be scanned by my mail server...Gmail does that for you and believe me, its an awesome mail service...the design has been consciously made to increase the person's effort in deleting a mail, that he would not think of deleting them...though I prefer not to have useless mails for long...
ye!! All those lesser mortals who said, "I don't want a Gmail!!"....you have missed/avoided a wonderful opportunity......
The trip on the whole was great.....There was absolutely no rush in the temple....I started from Manipal by around 12.30 PM and reached Calicut by around 8.30 PM....by bus....sheece...I love bus journeys...I feel very close to freshness in a bus..trains feel like a closed cell to me...though it is more comfortable...I dont like the bars in the train windows, effectively restricting the outside from you...also I got used to bus journeys...may be coz I don't like waiting for a train (that too it comes late 11/10 times)...In Tamilnadu at least, you have a decent connectivity by bus, no matter when you start from wherever, you can always find bus for your place....but in Kerala, it is just the opposite....the entire life seems to move with the Train...
The noticeable difference in two years is that the bus service has improved a lot in Kerala....there are buses more often than then and the quality of buses too has improved...
That apart, more interesting things about Kerala is the food and the accompanying stuff....the first time I was in Kerala, was when we went on a tour in our engineering college....then it wasn't Kerala tour..it was just Cochin and Athirapalli....But when I was in Calicut, the first thing that terrified me was the water they give in hotels.....the first time I saw the water, I took a vow never to have water in a Hotel...God, the water was pink in colour and hot....Seeing a Pinkish water(looked like Potassium Permanganate Liquid) would never had made you thirsty for the day...I was scared to take that water....also the only word I knew was "Vellam" and when I ask for it, the bearer used to bring more of it....I was even scared to touch it...I wondered how the hell on earth do these people drink such a water....and Then I came to know it has some medicinal powder and all....but, for the day, I didn't had water in the Hotel, how hot the food might be...but the water is tasty...I loved it now.....how I missed it...
I met Amrita...so cute...she has changed a lot....I simply Love her...she is awesome...the last time I met her was when I left Calicut....It was on May 30th..my birthday...when I resigned and left for Manipal....she then gave a hug and was all tears....was asking when I would come back....when would I call her....she even made me promise I would call her every week...I didn't keep that promise though....happened to meet her...she had grown....she was in 3rd standard when I left...she had grown taller and now had reached my shoulders....She is the daughter of my ex-colleague and a damn sweet girl in that..."Krishna Mama...nengal enthuna Phone Chiyaathu???..Enikku nengale vilikkan pattitilla....nengalude phone number ennikku ariilla"..well I didn't had any answer for that....except for a sheepy smile...but then got her out for dinner and treated her with Prawn and Fish delicacies...Though I am still a pure veggie(not even egg)....six months of Calicut had made me loose all inhibitions towards sharing the table with Non-veggies...now I can at least eat with non-veg on the table.....a nice and a beautiful dinner it was..enjoyed every bit of it...
Reached Guruvayoor by around 9.30 AM on 25th and was done with the darshan by around 10.15AM...had the morning breakfast after Darshan and started immediately to Calicut...the interesting part is that I returned by the same bus in which I came from Calicut...the conductor remembered me and was asking..."So you are back...so soon???"...went to the office(Ex-Office)...met all there too...many things have changed...many people had left...new faces...new issues...Started to Manipal by 7.30PM by Bus....ofcourse I didnt want to wait till the ghostly hour for train...reached Manipal by 3.50AM......on the whole enjoyed the trip...
---
Sunday, January 23, 2005
Movie....Computer.....Messenger.....
That's what I had been doing for the past two days....with no classes scheduled, MIP Report submitted, placements over....what the heck is left to do....except sit in front of the computer and stare at the screen endlessly....that too would get boring after sometime....movies....yeah got to see three of them today....after breakfast one, after lunch one and after dinner one....Jaysuriya, Van-Helsing, Aai in that order....yeah I can hear you.....its true..I have become so jobless that I tend to see Jaysuriya, Aai and all...but Aai is for Nimitha( or is it Namitha....so much for my taste and Memory)....she looked good in the Pictures that did the rounds in the emails, but in the film she doesn't quite match the hype she created through emails...I think this strategy would work well for the heroines of films that are aimed at the city crowd....actually, all those pics were of her modeling era, when she had given some decent photos....thus, give some really nice photos of yours in the email forward list and then release a film..I cannot guarantee success, but there sure would be some hype that might end up in better ticket sales....
That apart,
Venky
had gone to Chennai...he got permission to go home...even I would have gone...but I hadn't yet got the MIP completion certificate from my guide....I submitted it on Saturday and before I could get his signature, he had left....and all those who hadn't taken MarkStrat would go home, had they had submitted the report and got the completion certificate. I hadn't taken MarkStrat, but I hadn't got the completion certificate...so I cannot leave till Monday...then there would be no point in going to Chennai...ofcourse, I would have loved to go to Chennai....especially to
IIT Madras
....atleast for
Saarang
....but now I am not going there...but I have other plans...I would go to Guruvaayoor....it had long been my wish to go there...so I would most probably be leaving tomorrow...after getting the permission...would go to Calicut also, and meet my Ex-colleagues there....would like to meet them...it had really been very long since I met them...I had been in touch with them through mails and phone...but then nothing comes close to a face to face contact.....
Jaysuriya was a mere waste of money...what a screwed up cast and crew.....Arjun would do well to come out of Collector, Police Assistant Commissioner roles...he had done enough of them that the Police department should have thought of instituting a life long service award...last heard, they are seriosuly considering him for that award....or they are considering that award for him...?????? Laila...sorry no comments...I shouldn't waste time in commenting on dolls and Manquines...infact the manquine would have done some good to its character...she is jus an added comparative advantage....nothing more...
Aai...let me better stop it here....yeah..I have no work..but that doesn't mean I should watch all these movies...
But a movie worth speaking is "Kaadhal"....may be because it says, its a original story in the opening, the film is more thrilling and effective...the Chittappa character is amazing...the characterization is a rarity in such a profession of Brandy shop owners, goondas etc..(atleast that's what all the Directors till now had wanted us to believe)...he thinks through the brain and is calm, composed and tackles the issue perfectly...the small kid in the workshop too is good...he had done well..the Madurai tamil is perfect and the father character has been carefully chosen...the story is a strong one, with expected turns at unexpected time...
The story is simple....two teenagers fall in love and decide to gallop...the girl is the daughter of a Brandy Shop owner and is rich..the guy is a mechanic, and ofcourse Poor..they come to Chennai and get married...by this time, the girl's parents start searching for the girl and get to know that she is in Chennai...the girl's Chittappa comes to Chennai....speaks and takes the girl into confidence, and they(Hero and the heroine) comes to Madurai with him....but when they reach Madurai, the Chittappa turns Veerappa and the girl sacrifices her marriage for the Hero....she gets married to some other guy and gets a child too.....after some two years she happens to see the Hero in Dindigul as Mad guy roaming in the streets.....she comes to him, but he hardly recognizes her....her husband comes to her rescue, and the film ends saying that the husband is still treating the guy in some Psychiatric hospital...
All said and done, the one thing that I couldnt enjoy is Sleep.....
---
Am I Hobbes????
You're Hobbes. First of all, the makers of this quiz would like to congratulate you. You have our seal of approval. You are kind,intelligent, loving, and good-humoredly practical. You're proud of who you are. At the same time, you're tolerant of those who lack your clearsightedness. You're always playful, but never annoying. For these traits, you are well-loved, and with good cause.

Which famous feline are you?
brought to you by Quizilla

It has been really long that I took a test like that....So, jus went through the test to find what Feline I am.....so is that right????...May be.....

---
Friday, January 21, 2005
With the Placements coming to a close at TAPMI, its time to think of Convocation 2005....The 19th convocation of TAPMI and the first that I would attend....The convocation is on March 26th..The Chief Guest had been finalized...its
Mr.Vikram Singh Mehta
(Chairman Shell Group of Companies India)....He would be delivering the Convocation address on that day....We are already prepared for it....
The fifth term marks have come...as expected....a big time screwed up term...I had missed three quizzes coz I forgot them...So had to content with an "F"- my first "F" in any test(ofcourse this is even without giving the quiz)..In my illustrious career spanning 20 years of education, this is the first quiz or test, that I have failed....shame on me...feels very bad...that too in Training & Development and Services Marketing.....I missed T&D quiz because I was late for the class by two minutes...so got out of class and that fateful day, a surprise quiz was conducted...and that gave an "F"...In Services Marketing, I totally forgot the quiz...The quiz was scheduled at 1.00 PM and I didn't had any class in the morning...so I was there in the hostel, typing the
BrandScan
report. It was well past 1.30 that I remembered I need to have lunch...So I went to the mess only to find it closed...shit that was a Saturday and we don't have our mess...We need to go out...cursing myslef, I start to the Institute to catch other guys for accompany me to Lunch...borrowed the Hero-Honda from yashasvi and started to the college....on my way, met Vasudha, who told that guys are waiting for me....I arrive at the college, only to find curious look in the faces of all..ofcourse they all know I had missed the Quiz...Moron its me who took long to understand what the look is for....But its too late....the quiz is over...and I get an "F"...
The last quiz I missed was on (well I had already blogged about it on 18/12/2004)..go check there....its under"How long it takes for you to forget things???"
I am not in any mood of missing quizzes any more...its really a dent in my Ego, that I cannot get an "F", anywhere, anytime...Well I can take it..
However, I need to tell this...I will be free from today till well into next week.....I have absolutely no classes scheduled till 31st of January...its because of the Marketing Strategy course....its taken by a majority of students and it goes on day in day out for over a week...and so when these guys slog out for the Marketing Strategy, I have nothing to do...I haven't taken the course...Lots of time...nothing great to do....
Books...well...somehow I couldn't concentrate in books for sometime now...I think something is bothering me to a great extent.....Day in day out...I am being bugged by some thoughts that just wouldn't go off...have been really trying hard to get rid of those memories...but then its really tough....to see your hopes slash in front of you...with your own hands you bury it deep into somewhere...hoping it would never rise again....but then you never really bury it...it still lingers on...only to swallow you at times and make you redundant...jus a mass of flesh and blood...with no life....Zombies with breath...skeletons of buried hopes and wishes....playing fatal games with your dreams....Butchering heart like a red hot sword through cheese...yeah...yet another rambling...
I thought I would never regret my decisions...but certain events had made me regret my decisions....certain miscalculations, certain misjudgements had made me look silly....okay...atleast no regrets for this....for that....and for everything...
---
Wednesday, January 19, 2005
Infoscian now!!!
Its the big day today in the college, with companies pouring in like I dont know what and Infosys was the first choice for many...apart from that, there was Grand Thortan, AFF, Wipro, Wipro Consumer Care,Sify, Kotak Mahindra Bank, HDFC, Citi Group, Batlliwalla and Company, Polaris, E-Serve, Progeon,Meibac, Sterlite, Askoh Leyland, Darashaw, CRISIL, CARE, ICRA, TCS, TATA Teleservices, TVS Motors, Titan, and many others....with grueling PPTs and immediate Group Discussions, Interviews, and selection process....oh...its really tiring...but at the end of the day, it gives you immense pleasure to find that you are into Infosys...thats what I would hope for...They have given me an Associate Consultant Profile...Great...They first asked me whether I would take a Recruitment Profile..I told I would take that...After all my major is HR and I cant say no...then they asked if given a chance, what would I prefer..Consultant or a HR role...I told, I would prefer a Consultant Profile, as that gives you a much broader perspective and exposure....Blogs were of immense help...when they asked to tell about myself, it was all Blogs and how Blogs had helped me to develop perspectives and appreciate others views...how I learned to tweak around with HTML within 6 months etal...It was smooth to the end...one question I would never forget is the difference between a Manager and a Leader...I told its same as the difference between the people sitting there and Mr. Narayanamurthy...I think there was a bit longer than normal silence in the room for some time...

---
Monday, January 17, 2005
Shyam Benegal and Secularism...
Today was our Founder's day and the special guest was Shyam Benegal....and his topic for the T.A.Pai Memorial Lecture was "Secularism in Indian Cinema"....nice topic and its really my turf and I can really appreciate many of the issues he raised in the speech....like the depiction of Minorities (Muslims, Sikhs, Christians etc...)...especially Muslims immediately after the partition...he says that Muslims were dealt with Kid gloves throughout the hindi cinema till the 1971 Bangladesh war..this he reasons that the then directors were sensitive that any awkward referrences to the muslims would incite passions and would lead to riots....but this changed with the Bangladesh war, with the two nation theory disproved and thus the percieved need to protect the minority interest in the country too....then the Cinema started showing Muslims in proper light...he is of the opinion that South Indian cinema has been very straight forward towards Muslims....he cited the example of Malayalam and Tamil film Industry....though I am able to agree with his observation with respect to the Malayalam Industry, when it comes to Tamil Film industry, I dont think there has been any thought on the depiction of Minority community....I havent come across a single hero from a Muslim household till now...Even Bombay had a Hindu Hero(but then you can argue the Heroine is Muslim...but then the story is about Hindu Muslim Problem...so I think that wouldnt serve as a good sample....)....thinking of it, there had been no Muslim hero in tamil films...also, whenever a Muslimi is shown(baring a few Puratchi Kalaingar movies, where the enemy is invariably a pakistani, then you have barely any chance other than a Muslim villan), he would be shown as a law abiding citizen, praying five times a day, no booze, no smoke guy, with clean habits and all....similarly, any Orphaned child would go only to a church and inavariably any calamity would be handled by a church...also when there has to be a confession, the hero invariably goes to a church and all those stuff....why should this stereotyping happen....do the Film people think, they are putting a minority community in a safer place by showing them as nice people??.....what is the thinking in the media about the Muslim(for that matter, any Minority) Identity in India???
Does the media say that "Look these people are minority, so they might be trumpled by the Majority, so we are the only ones to protect them and its our duty to create a good image about these people"....is this the media's thought process....if the media would want to think these people as equal citizens, then why do it want to create an image???.....The Media doesnt seem to have any inhibitions, when it comes to painting a Majoritian practice in bad light(It might not be that bad atlast)....
How many advertisements have come with Minority theme???....Why should the ads be only Hindu ads???...Does this mean that only when the Minority can bring money would there be ads on them??....
Another issue that comes to my mind is how easy it is to say Hindi Cinema as Indian Cinema....Whenever Indian Cinema is referred, it invariably denotes only Hindi Cinema...also it seems that when Satyajit Ray was awarded the Lègion d'Honneur award, he said he is a Bengali Director....this created a flutter and he had to explain that he meant the Language in the sense, he takes only Bengali films and not Hindi films....now go back to the starting of this paragraph....

---
Sunday, January 16, 2005
Educational System in a Saturday Night!!!!!
Yesterday being a Saturday, we dont have our mess and we need to go out for food.....oh...what a perfect stone age men we turned out to be...searching for food and finding every outlet closed...ofcourse as we were immersed in the Padaiyappa, we forgot the time and when we really realised the time, it was well pass 8.30 and here in this part of the world, where the shops close down by that time, it is a very dangerous proposition for your dinner...yet, we( me and
Venky
) went out fully aware...it sure turned out to be a great night....we went to the main Manipal Library...God what a fantastic architecture it has got...replete with glass exteriors and wonderfully laid pavements, its a treat to watch...an amazing fountain they had made in the front and a series of benches for people to sit makes it a awesome combination...had you listened to the splahing sounds of water on solid rock??...its so soothing and calming that we sat there just gazing at the night sky above us for around 1.5 hours...the Library and Information Search center as they call it, is built in a huge "50" base......the entire building rests on a base of the numeral "50"- commomerating the Golden Jubliee of Kasturba Medical College...and the facilities there, is awesome....its not jus a Library...if let, I would certainly make it my residence...Books, Books and Books....its jus filled with Books...Even by the TAPMI standards, this Library is huge...For one who had seen really a modern fully furnished Library in TAPMI, this Library is even more baffling....I had always been very fond of the TAPMI's Library...a wonderfull collection of carefully selected books on subjects ranging from Fiction & Literature to Management & Operations, TAPMI library is really a treat.
That apart, after the seemingly eternal time in the lawns of the Library, We went to the KMC Greens, as we fondly call it and sat there for another 1/2 an hour.....the discussion slowly turned towards the Medical College Life and other realted nitty gritties.....The Grade system followed by the Institutes, and other topics....
The Grade system as followed by many institutes of higher education invloved a prolonged discussion...Venky is of the opinion that the Grade system doesnt give you enough scope to differentiate between performers....he says that when there are thousands of people applying for a few seats, a system that cannot differentiate narrowly would end up miserable....thats true...consider Engineering admissions....if the evaluation system changes to Grades, then would it be able to differentiate between two people who had got the same grade- Say an A+...the first guy might have got 95 and an A+ and the other guy 96 and an A+...now whom to award a seat to the 95 guy or the 96 guy(assuming there is only one seat to be decided on)???.....Both have got the same grades, but the 96 guy is a better choice(assuming again that the grades is the only evaluation criterion)....may be in PG level grade system works(because here the competition is among much lesser clientele) will that be a viable proposition for engineering admissions(say for example)???
---
Thursday, January 13, 2005
Philosophical and Practical Incongruence
With Life at TAPMI coming to close by March 26th, the campus is busy, getting ready for the close, in its own way....We have a annual magazine called Interface, that remains as a souvenir for the seniors...here Seniors write about their batchmates and the Juniors too write about their close seniors......So, to write about my friends, I was searching for a suitable quote.....It is then I came across the quote, "
If you love something, set it free-- if it comes back it is yours else it never was
".....somehow I couldnt but wonder on the incongruity between the quote and the practicality of it.....Say of example, take "Life"- the one thing in world, you love the most.....can you afford to let it free and hope it returns back????....Will it happen that way??.....When you let free of something, will you be in a position to appreciate it even when it comes back....and there is this immortal question--If you let go of something, did you Love it at all in the first place??....The basic human nature is to get what he/she loves for(not only Human, but every living being in this Universe).....Philosophically this quote might sound great, proving to yourself that the thing you loved was there for you....but thinking in the other way, Were you there for that thing you Loved, When it needed you the most???....Somehow I couldnt understand the quote...atleast appreciate its practicality....then I came across another quote.....
Absence of Evidence is not Evidence of Absence
....This quote to me makes immense sense and meaning....may be this is more optimistic and makes us to approach a problem on all possible angels....may be this quote would define many relationships and many other phenomenon(including God).......Finally I settled down for this quote......(I think that quote would perfectly define our Gang.....Absence of Evidence in terms of Grades is not the Evidence of Absence of Brians....) Interface would be ready only by March( I specualte..)..but then I will scan it and upload it in the site....already I have uploaded most of our photos in the site...and also some Flickr pages too are there....remaining photots(yet to be shot) would include the Placement Parties, Farewell Photos and other group photos, Gang Photos etc.. etc....I will load them up too..
---
Happy Pongal Wishes!!!
The one thing for sure that TAPMI had given me is to forget the festivals....every day is the same here with no great variations...so when there is some festival, it is always the phone from home that remainds that there ought to be some thing special for that day.....the same thing happened today too...Only With my father calling me for wishing Pongal does the thought of Pongal comes...also with TAPMI populated with many other people too, some special festivals do loose their popularity....with Pongal being a typical Tamilian festival (though others celebrate it as Mahar-Shankaraanthi), it doesnt get the special attention that it gets in Tamilnadu......so, here I go wishing you all lucky souls to be in Tamilnadu for Pongal (and others too...)....I really miss that excitement in being in TN for Pongal.....once again a very warm and happy Pongal greetings to everyone.....
Actually one very funy thing happened today...when 1 of my engineering college friend(He is from Andhra) had mailed today wishing Pongal, I mailed him back, Thanking and wishing him Happy Ugaadi.....now this is what I meant by the first sentence.......
---
Is this the right way to go???
It is amusing to me how the Magazines and Newspapers in Tamilnadu reacted to the news of arrest and the news about the bail order....clearly it(ofcourse the release in bail) has'nt gone well with the press....I think there are still some lurching questions to be answered by the Police..Why did they wait till the Supreme court granted bail to Jayendrar, when they claim to have clinching evidence against Vijayendrar???....Why had they arrested him even as he was performing his pujas, that are mandatory to be done....had this been done with a Moulvi for example will the same press be quite???....Will the Police take out other religious heads when they are praying???....What is the role of the Government in this episode???....Everyone knows how a Police department is handled in this country and it doesnt need any further clarifications....Besides all their claims of Justice, it still remains at the best murky....
At last(hopefully so) they have frozen the bank accounts of the Mutt....Not even proven Criminals are treated like this...This haste of the Tamilnadu Police makes all their claims of Fairness and equality before law hollow....a 2500 year old tradition has been broken, when the Daily pooja was not performed by the Acharyas....
Is this Government targeting the Perceived Offenders or the Institution???Why were the 183 bank accounts frozen....that too without citing any reaons.....doesnt this Government know that Kanchi Mutt is more than Acharyas...it manages hospitals, trusts, schools and many other aid agencies....Had the government thought over these things when it made the decision to freeze the account??...
---
Tuesday, January 11, 2005
Jus a thought!!!!
It has been long since I tweaked around with the template...The HTML codes and the structure...I had been pretty happy with the layout, though it some times gives a very sober feeling even to me...The one who was satisfied before...But then it requires you to sit through the 17 pages of coding(in MSWord) and then see where all can the improvements be made..Also it requires you to decide on the width of the postings..Actually now I feel the width of each posting is less...So it seems to be a rather long post....I need to increase the breadth, so that more words would fit in the table that has been defined for posts..That would typically be a single code, but then I haven't defined the width in absolute terms, rather it has been defined as a Percentage of the screen, which means that I need to sit through and adjust percent by percent and then see the differences and that becomes a real pain...So I am content with the layout I have got now and would live with it for some more time.....Also my first anniversary with the blogosphere would be coming up on April 24th......I would try my best to give this site a new look before the end of April...I would like to have a different feeling post April 30.....
I started this blog to mostly write about a particular phase in my life.....that is my Summers in Mumbai....Those days when with my limited knowledge of spoken Hindi, how I survived that wonderful city for 2 months......How harsh its in the outside world.....The differences in perception, outlook and the valuable lessons I learned there in terms of interactions had certainly made me wiser (atleast I hope so).
I am happy that this has turned out to be a great experience to learn a lot things and to interact with such diverse people and to make friends..Though most of them wouldn't have seen me, or vice versa, I know it has been great to interact with them......
---
Sunday, January 09, 2005
In a very happy mood!!!
I am in a very happy, satisfied and light mood today....Got my hair cut after a month...my hair had really got long and disturbing...I had always been a light headed guy(he..he...he)...but with the extra growth at the top, it has of late become too heavy to carry around...also I have a really hard, thick hair...gets menacing at morning...God I just let them go...also saw some nice movies....Shimla Special, Singaravelan and Alaipaayuthae...Shimla Special was simply superb....excellent comedies of yesteryears...Singaravelan though being a full time masala, was atleast enjoyable....some nice comedies too...But the icing on the cake was Alaipaayuthae....Nice Film you see...had seen it 10 times(including the current one)...afterall we do find a bit of free time now-a-days to watch movies...there were atleast 3 movies running simultaneoulsy...the other two were Whistle and Narashima...Whistle I had seen it and wasnt in a mood to watch thrillers...I want something light...some comedy.....so thought would watch Narashima...but then with Shimla Special and Singaravelan, these two won hands down....Had been free for the past 5 days...my last scheduled class was on Tuesday..infact I had only attended 3 classes from the start of this term...luckily I hadnt taken Advertisement Management....then I would have been screwed up....This term papers are a little lighter....System Dynamics and Learnig Organisations(SDLO), Emotinal Intelligence(EMIN), Information Risk Management(IRSM), IT Strategy(ITSR), Research Methodology in Behavioural Sciences(RBSC) are some of the papers that I had taken this term...In this only RBSC is a three credit course...all others are either single credit or two credit...so not big deal....I will be able to catch up a bit...I was also hearing the songs from Kisna( Yesterday only I know Kisna is a colloquial form of Krishna...atlast) Nice Songs....
The other work remaining is submitting MIP report(Phase III) its a case to be written about the Organisation of our Summer Work...submission has been hanging fire for almost three weeks now...but then it is almost done...only proof reading is left and I will finish it this week...all said and done...I am happy today...very happy...dont know why...
---
Saturday, January 08, 2005
Looking for a National Security Adviser
The Hindu : Opinion / Leader Page Articles : Looking for a National Security Adviser
A well thought out and neatly presented article...The article clearly tackles the pointless question of "Do-we-need-a-NSA" by the horns...these sort of deliberating tactics would only delay the national progress...when we have a working model in place why should you change it just because it had been implemented by your adversaries....The Ego is not to be in issues of national security...we had seen how the previous system worked n works...as the article correctly says, the new NSA shouldnt be there just because of his closeness to 10, Janpath....He had to have the mettle of Mishra or Dixit to carry out the tasks...any one who has read Mishar's My South Block Years would remember his fondness whenever he refers to the Rajiv Gandhi years and the shrill tone when ever he refers to the BJP.....but all said, he was a true gentleman and he served his nation truly....his book gives ample evidence to it....it also gives an insight on how the Foreign policy can be influenced by personal chemistry between leaders. Vajpayee used that with Musharaff to a good extent....lets hope Manmohan Singh too would use it.
---
Damn it!!!!
After all sorts of persuasion and pleading and mailing, I think this aint going any where...I certainly dont like indifference and that is what I am getting at the other end...so after this short an encounter I am positive that the result is Negative....no crips...only concerns....I'm sure there wouldnt be a better person..but then opinions vary and as they say"Every ass has a hole"... Iam least worried about this..after all it came my way, when I least expected it...so when it leaves me why the hell should I worry....for all those who couldnt figure out what the heck I am speaking..I am sorry this is one of the most intimate things and I prefer it to be with me only.
But there are other things that I would dwelve on...like the recent deliberations regarding the Budget and the things with Reliance...
But then they arent the top of my mind now.....rite now all that is in my head is the placements and that starts by Jan 19th...with the days inching by I had grown a bit nervous...not that I need to worry about the placements...with the line up of companies this year, that would be my last worry...all I am worried about is my dream company....as of now...(infact for a long time) two companies had been in my hit list......HLL and Infosys.... lemme c what I end up with..
I would also be carefull about the Profile that the companies offer...
BrandScan Project has been completed and had been accepted by the Company too...TITAN industries would get richer in Knowledge with this report....he..he..he.. to celebrate that yesterday, the Team Titan went out for a dinner....to our own Guzzler's Inn...what a dinner it turned out to be...but the Hyderabadi Biriyani turned out to be very spicy and every one finished the dinner with a very emotional touch....with watery eyes and running noses...
The weather in Manipal has turned to worse....hot days followed by warm nights is one of the nightmares we need to live with, in Manipal.....but for the past two days I have been playing(rather practicing) football....it is scaring to see how much stamina I have lost....I was unable to run for 2 minutes....I need to do something....I shouldnt let this go off hook..... I need to regain my self....I need to Jog(Joke)......I need to get up early in the morning for Jogging....but then who will wake me up....I leave it to you GOD....
---
Wednesday, January 05, 2005
Why is it this way??
Of late I think a lot about the reasons why we like or dislike someone. Why should I like someone so much, that even after many not-so-subtle hints that this'nt going anywhere, I still harbour hopes. I am sure, had it been somebody else, I would have snapped links long back...But with you, Iam unable to do that...Have I become so insensitive and thickskinned with you alone..I was not like this before... Am I so afraid of losing you...but then I never had you to loose... then why the hell am I so distrubed???... If I sound desperate, which I think I am,then what else can I do???....Why should people mail back telling they are not interested and then wishing everything.... sarcasm???but then I was serious....couldnt you understand... I have waited for three years and I wouldnt mind waiting further, if only I can know what you think..
I think I have been reading too much between lines to imagine things...I think Iam like the cat that closed its eyes and thought the entire world had darkened...I know I am one such, but then it feels so nice to close the eyes and imagine things...I am afraid if I open my eyes, I would have to see those things that would be too difficult for me to handle....I hadnt been afraid to face the truth before...I hadnt been a coward before...You had made me a coward,who fears to face reality...Long Live you...May God Bless you...
---
Tuesday, January 04, 2005
Neone for a Gmail account
I have 5 4 Gmail accounts left with me...anybody interested???..U can mail me at ss[dot]krish[at]gmail[dot]com
---
Tsunami and Media
Jus when I was thinking about leaving to Chennai and enjoying the term break Tsunami has struck...As I was in the college then, I decided to first go to Panruti and then go to Poombhugar to see what had happened accordingly I started off to Panruti and reached there by around 9.00 am in the morning on 27th...I stayed there for a day and on 28th I was off to Poombhugar.. on the way I also decided to meet my uncle's family and it was there I saw the tragedy that was Tsunami...There were hoards of people put up in the Temple at Thirukadaiyoor and they were well fed.. but there had been many casualties and everyone had a sad story to tell...the most saddening to me was that of a two month old girl child...it was found inside the damaged buildings….she had lost her parents.. they had either died or lost somewhere, with the first possibility more probable… a small kid of around 5 years had lost her parents and she had caught hold of this child… she doesn't know what to do with this child... she herself had lost her parents and she is crying for the two month old kid…
All I could do was to give that girl some money and pray for them… it just feels bad.. I was unable to do anything…what should have I done???...what could have I done at that point…. All people there are in the same boat and no one would take the responsibility of the child…moreover there were opinions that had it been a boy child, may be a lady would have taken him…coz it was a girl, she had hesitated and refused to take her….should I pity the child or the women???.. Does this show the prejudices against female child or is it plain practicality???.... I couldn't help the kid…but does that mean that I should not speak about that….the women who told that she would have taken the kid had it been a male…is she being practical or being whatever u call her….
I couldn't conclude…may be we are conditioned to think it only in our own way…may be she is more long term thinker and had thought over all the possibilities… I couldn't decide about this…
The role of Media though commendable would have been better ( IMHO)…should this be an opportunity to show the prowess of their photographers????....In particular Dhinamalar was pathetic.. Somebody can seriously tell the photographer that people would appreciate him driving away the dog that eats the corpse than shooting it in his camera… I don't think this is Discovery or the National geography channel where they show the Carnivorous hunting other animals…this is one of the worst tragedy that had befallen the world.. And it would be much better to show some humanity towards the deceased than to claim photographical excellence..
The vernacular newspapers were pathetic in their business sense…one paper was proudly proclaiming that they have 12 pages of exclusive photos… as if this is another world wonders… simply disgusting…
One more thing I noticed was that there were more than enough clothes to the affected people… There was enormous support from all quarters of the country and in particular all parts of Tamil Nadu… I can see many trucks from all over Tamil Nadu arriving at Nagapattinam district, but I don't know whether they reach the needy…
People expect Government to provide them with everything from shelter to food to clothing…. Will the Government machinery geared to face such a demand….
In Nagapattinam district alone around 12 villages have been destroyed and in Cuddalore district 3 villages have been completely destroyed… rebuilding would take atleast an year…I only pray it heals the wounds of the survivors much faster….
---
Monday, January 03, 2005
Term Break and Tsunami
I am back in Manipal after an eventful, but not remarkable Term Break. I felt the Term Break would be the most refreshing thing to happen in about an year, coz I havent been to home for around 8-9 months now and I was in every aspect looking forward to it. Also, I had the Alumni meet at my Engineering College, with majority of my group guys confirming they would come..atleast after some time, we can have a get-together. The Alumni meet itself was spectacular(personally for me, for I got to meet some of my closest friends after a gap of around 2.5 years)...Good' ol memeories....
The college itself has changed beyond recognition. The trees had all grown and they gave a great aura to the entrance...the feel of majesty and a royal touch.Of all the places in the college, the one place I like, apart from Library is the road between the Canteen and the Academic building. I would have sat there for long times daily after food and just gazed at passers-by. It is a nice pass time till u get nudged to the class by other friends and we can share a long chat on everything of every one who crosses us...Girls, Professors, Guys..etc.(Remember the Guy in the Film Valli( Rajni's Film))..jus idle away time mocking at others(often Sarcastic and many times adoring....
Those trees have grown large and the college had got a great Auditorium...it has been a pretty satisfying trip to the college after a long time...
When long last friends meet, there can be only one conversation....and that is about others....any one we can lay our thoughts on were ragged, paraded and teased to no limits...
It was well past 2 when we had our Lunch...the canteen hadnt changed a bit. It still smells of Kuska and stiff chappathis. The one note worthy difference was this time around, we dont want to eat it daily...
It was during Lunch, that I first came to know that some thing aweful had happened across Tamilnadu. But then I didnt know the magnitude of it..people were telling that Cuddalore district had suffered a bit and Chennai too had not been spared..I immediately rang up my father ans he had been trying to reach me from the morning...though I had told him that I would be going to the Institute, I havent told him when and with whom. As I dont have a cell phone and all my friend's cell would not work in Hosur(He had a bangalore connection with no roaming) and then too my father didnt had the number of Venkat...
Only when I spoke to my father, did I get to know of the extent of the damage and it was shocking to know that the damage had been severe and water had already entered many parts of coastal tamilnadu, with Nagapattinum and Cuddalore ditricts the worst affected...Appa also told that our ancestoral house in the Poompbughar(if you are tad familiar with Tamil Literature or History, you can identify the town with Sillapathikaaram as the home town of both Kovalan and Kannaghi)...Our house is a good 4.5 kilometers from the coast, but still water hasnt entered that far....he was apprehensive the house might have been damaged and wanted me to go there and see what had happened....
I went to see it for myself and moreover, so that I would meet the Family of my recently deceased Uncle(he died of Luaekemia on Nov.21 jus when BrandScan was getting over...about him later).
The scenes I saw there and my thoughts on some of the practices by the media during the entire episode would follow in the subsequent posts.
The house did had quite a bit of damage, with cracks every where and giving a feeling it would jus give away any time..had to take care of that...but then there were none to repair...so shifted my aunty who lives in that house to another aunty's house in nearby village and I came back to Thirukkadaiyur(where the family of the one deceased of lueakemia lives)..got to spend a day with them...amidst sorrow and tears...he has got two children...the elder one is a guy and he is doing his Secong year B.Sc and the younger one - the Gal's in 10th Standard...all I was able to say them was to read well and work hard and everything else would be taken care by us...its really getting late..I will continue with this tomorrow
---
Jus been
visits
Free Counter
Get awesome
blog templates
like this one from BlogSkins.com
© All that is written here are the Genuine Products of the Intellect of the author and are protected by the relevant copyright acts...If you wish to quote the highness you can do so at your own risk and at risk to the integrity of the author's cerebrum.
Disclaimer:
All that is written in this blog are the personal opinions of the author and are in no way representative of the organisation that the author has worked for or is working for or would be working for in the future.